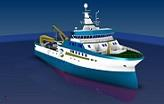 Name of infrastructure (and installations):
TBC (will replace the Magnus Heinason 2020)
Location:
Tórshavn, Faroe Islands (Home Port)
Legal Name of Organisation Operating the Infrastructure:
Havstovan, (Faroe Marine Research Institute, FAMRI)
Organisation Address:
P. O. Box 3051, Nóatún 1, FO-110 Tórshavn, Faroe Islands
Annual operating costs (excl. investment costs) of the infrastructure (€):
2.81M
Description of the infrastructure:
Length: 54.4 m / Breadth: 13.6 m / Draught: 5.4 m / Max Speed: 14 knots/ Service speed: 11 knots / Max Access of People (Scientists): 12-16
A new research vessel is planned to be operative in 2020 to replace the Magnus Heinason. This vessel will be low-noise (Silent-R), equipped with dynamic positioning, and deck space for 3 x 12' containers and one dry lab and two wet labs. Inmarsat C satellite connection in addition to Iridium telephone and low bandwith data uplink. Station log system, with station event logging and underway track and depth logging.
Electronic system for registration of fish catches.
Services currently offered by the infrastructure:
The new research vessel will operate for HAVST (FAMRI) in the Northeast Atlantic. The work undertaken will range from fisheries research using acoustic and trawling surveys, hydrographic surveys and oceanographic surveys but will be well equipped for a wide range of research activities. The vessel will also be used in international research projects.