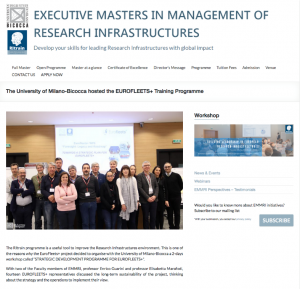 A collaboration has been established with the University of Milano-Bicocca and the Executive Master in Management of Research Infrastructure (EMMRI) to develop a Eurofleets+ strategic programme, customized to help/facilitate project beneficiaries in developing a long-term sustainable coordination system, thinking in terms of strategic issues. The strategic programme has consisted of:
A brain-storming session, held in Milan on 17 December 2019; the session was attended by an "ad-hoc" working group of WP8 beneficiaries.
A webinar, preparatory activity for Eurofleets+ workshop in Milan (30-31 January 2020), run on 10 January 2020.
A 1,5-day workshop, held in Milan on 30-31 January 2020; the workshop has been attended by 12 Eurofleets+ beneficiaries. Focused development and refinement of the Strategic Roadmap and Legacy outputs from Work Package 8.  In preparation for this work shop each partner completed an assignment by conducting an Environment Map of the Eurofleets+ "Research Infrastructure" in conjunction with a mind map depicting the Values of the RI. All attendees worked together at the workshop to identify a cohesive list of values from which to build the Eurofleets+ Strategic road map.