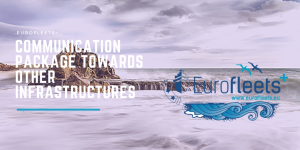 EUROFLEETS+ has successfully delivered a Communication Package Towards other Infrastructures!
Where you can find all the resources that might be of interest to the management of your infrastructure and support you through the experience gained through the several EUROFLEETS projects.
Access Guide – How to organise and evaluate Transnational Access Programmes;
Exploring The Unknown – Dive into the ways EUROFLEETS+ is advancing the development of new tools for European research vessels enhancing their capabilities to explore the oceans, manage the data obtained and facilitate access to these data;
Connect the Ocean – EUROFLEETS+ initiatives to foster a culture of co-operation between research infrastructures, scientific communities, industries and other stakeholders as appropriate, and to help develop a more efficient and attractive European Research Area.
Access this package here