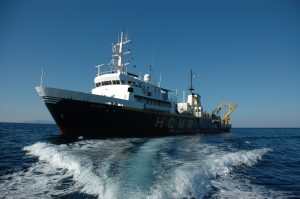 We are happy to announce that the Hellenic Centre for Marine Research (HCMR), a public research body under the General Secretariat for Research & Technology, Ministry of Development & Investment, officially commenced the procedure for the detailed design and construction of a new, ocean going, multi-purpose research vessel. Funding for the procurement of the new vessel has been provided by the Hellenic State through a loan from the European Investment Bank which amounts to 55.18M€. The project is expected to take five years with the commissioning of the new vessel scheduled towards the end of 2025
The current Research Vessel (RV) AEGAEO was built in 1985 and refitted in 1997. After 35 years in service and hundreds of research cruises in the Mediterranean, Black and Red Seas, she will continue to serve the Greek and international marine research community until replaced by the new vessel.
The new research vessel will support the goals of the national research strategy of Greece and the research priorities defined by the European Commission with the aim of improving knowledge of the marine environment, contribute to marine spatial planning and focus on the study of and response to climate change. The vessel will also provide practical support to those working towards European policies such as the Blue Growth strategy, ocean/blue energy and the sustainable exploitation of the seabed.
The major, thematic, research axes prioritized by HCMR to serve the above strategies are the following:
Marine ecosystems & fisheries research
Marine ecosystem health and environmental status
Ocean observatories and forecasting systems
Coastal processes, integrated coastal zone management
Earth's crust long-term dynamics and kinematics, and marine geohazards.
The new –green & quite– vessel is foreseen to serve as a versatile platform for marine research, with advanced operational capabilities and state-of-the-art research equipment, which will boost hydrographic, biological, fisheries, chemical, geological and geophysical research in the open ocean and up to 6000 m depth. She will operate in the Mediterranean, Black and Red Seas and likely beyond, into the Indian and the Atlantic Ocean.
Preliminary design of the scientific layout and the technical characteristics of the vessel have been carried out by the Hellenic Centre for Marine Research in close collaboration with the School of Naval Architecture of the National Technical University of Athens. She will be roughly 70 m long and 15-16 m wide and will be fitted with five decks above the tank top, Dynamic Position DP-2, single and double cabins with a capacity for 50 persons (roughly 20 crew, 30 researchers) onboard, over 200 square meters of scientific laboratories, ample open deck space, oceanographic winches, cranes and A-frames for deployment and recovery of scientific instruments.
More info: Dr. Aristomenis P. Karageorgis (ak@hcmr.gr), Dr. Dimitris Sakellariou (sakell@hcmr.gr)