Eurofleets+ facilitates access to 27 research vessels, and multiple AUVs and ROVs from European and international partners by means of transnational access (TA) calls. A Data Policy has been adopted for all data sets as acquired and processed in the framework of TA cruises, namely to make these findable, accessible, interoperable and reusable (FAIR). Therefore, data management (DM) is integrated in Eurofleets+ activities, adopting SeaDataNet standards and services, aimed at widely disseminating metadata and data of cruises, to the Eurofleets+ portal and by inclusion in major European and global marine data exchange systems. 
To achieve this, Eurofleets+ cruise research teams are required to create data management plans (DMP), and make use of procedures and components that are part of the DM strategy. The DM strategy consists of:
Research Vessels that are equipped with the EARS shipboard system to gather metadata of events and data as acquired during cruises, both by automatic systems and manual entries;
DM experts (three Reference NODCs from the SeaDataNet network) that are assigned to assist the principal investigators (PI's) and vessel operators, before, during, and after the TA cruises;
Validation and archival of all gathered metadata and data at the reference NODCs for long term stewardship, and wider distribution, using SeaDataNet, for exchange and publishing at the Eurofleets+ EVIOR portal and by inclusion in major European and global marine data exchange systems;
Distinction is made between 'en-route' data acquired by fixed sensors and 'scientific' data which is gathered by the researchers, in most cases requiring post-processing, such as analysing samples. The EARS system facilitates to gather 'en-route data' for regular transfer and publishing, while sailing, at the Eurofleets+ EVIOR portal in a dynamic vessel tracking dashboard. EARS also administers all events, such as instrument deployments, which support the PIs generating Cruise Summary Reports (CSR), and the DM experts to be aware of observations and originators as part of the planned follow-up towards including and publishing processed data sets after a moratorium period.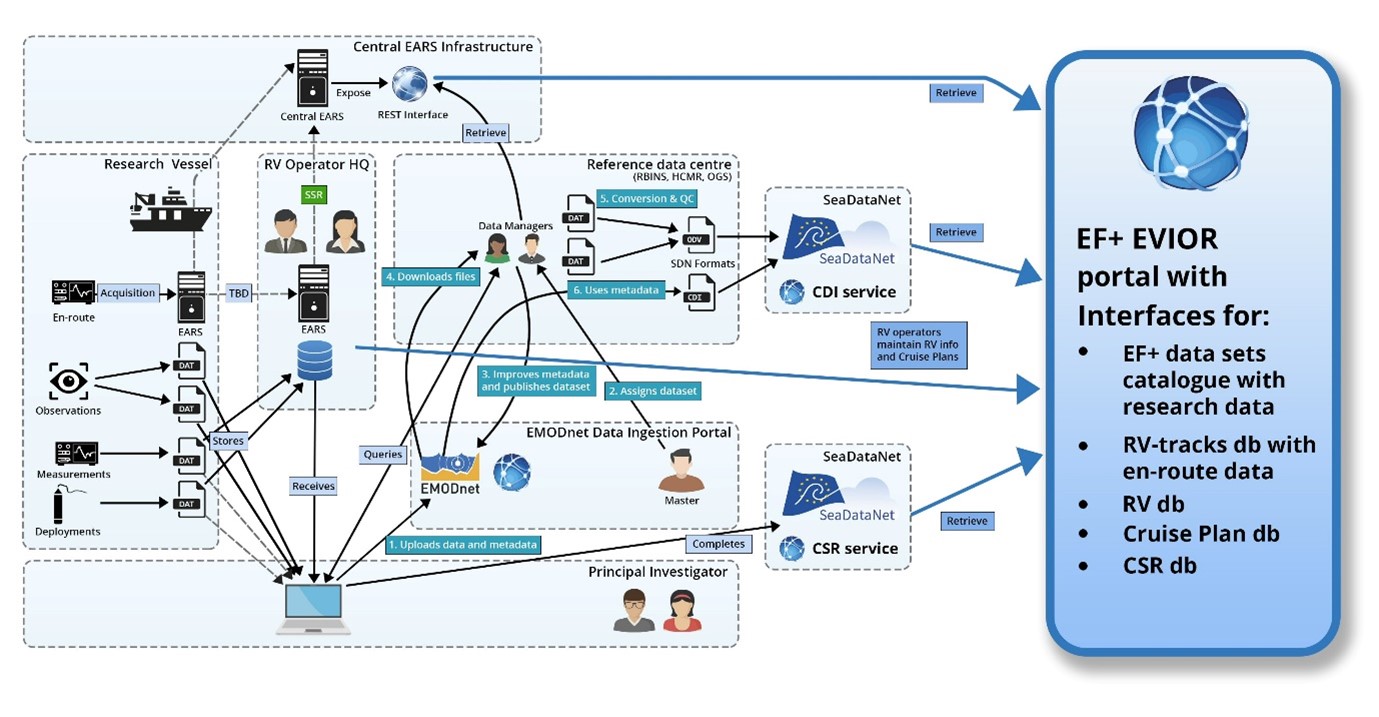 Image: flow of metadata and data from cruise to publishing as foreseen for Eurofleets+
Due to the COVID situation, so far, no Eurofleets+ cruises have yet been undertaken that could put the DM strategy in practice. However, it is hoped that this can be done later this year. Anyway, the EARS V2 system is ready and guidelines and instructions for installation and configuration are available. Also, good progress is being made with the development of the 'en-route' dashboard at the Eurofleets+ EVIOR portal and with EARS V3, which will have extra features. Importantly, upgrading from EARS V2 to EARS V3 can be done by overwriting the EARS V2 setup and doesn't require any changes in the datagrams from the connected fixed instruments.
Operators of research vessels, respectively, PI's of planned cruises are urged to contact the Eurofleets+ WP3.1 team (email to: dick@maris.nl) well in time before cruises, in order to arrange the installation and configuration of EARS at the research vessels, respectively, in order to discuss the DMP and to make the cruise team acquainted with the EARS functionality and the interaction with the DM experts.