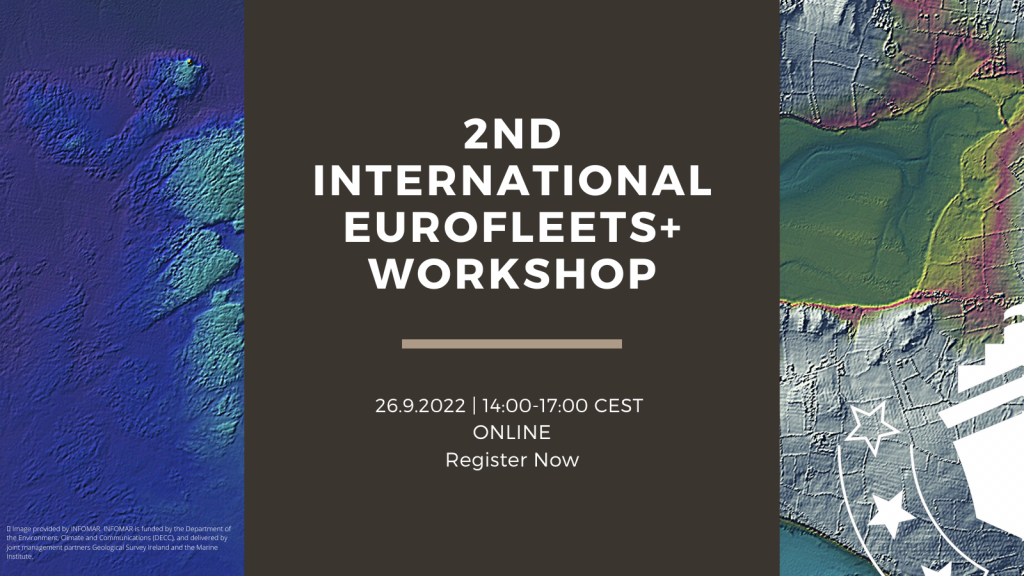 The Eurofleets+ team is delighted to invite you to its upcoming international workshop on Monday, September 26th, 14:00-17:00 CEST (UTC+2), for which you and your colleagues can register here: Workshop registration page.
Help us shape what research vessels can do for your community, by contributing to an interactive 3-hour online workshop in which we will be exploring questions such as: 
How can we strengthen synergies with Atlantic Mapping programmes and the research vessel community?

How can we best connect with Atlantic Programmes such as Mission Atlantic, EMODnet Bathymetry and other Benthic Mapping stakeholders, including industry?

How could we facilitate access to bathymetric data (EMODNET) and support all scientific stakeholders towards a reliable access to an Open Science System (EOSC)?
This workshop will bring together different stakeholders together with industry (marine biotechnology, ocean energy, seabed mining, etc.) that have a high potential for sustainable jobs and growth. 
Participation:
In this workshop, you will have the opportunity to contribute to the future of seabed mapping and the EU's Blue Growth strategy by sharing your knowledge and understanding of the challenges and possible solutions with others in the field. For this participatory process to be effective, we would like to invite you to attend the workshop in its entirety, and come prepared to join the conversation. 
Programme:
An event programme and a list of speakers will be confirmed shortly. This event will be held on Zoom and recorded. Automated captions will be available.
Please register your attendance by Thursday 22nd September. We look forward to seeing you there!