EUROFLEETS+ Floating University
"Modern techniques and platforms for ocean observations"
Onboard the R/V Skagerak and R/V Svea
Lysekil 24-28 October 2022
The EurofleetsPlus "Floating University"
Costly Trans National Access (TNA) of Global/Ocean class Research Vessels (RVs) cannot be assigned on the basis of need, but have to be obtained only on the base of scientific excellence. This presupposes adequate planning and implementation of high-return first-class scientific research. However, less equipped countries cannot compete for TA with the countries that are used to own, manage and access Global/Ocean class Research Vessels to perform first-class scientific research.
Eurofleets+ will utilise the unique facilities offered by the fleet and equipment and the experience and knowledge of the consortium to deliver five 'Floating Universities', a series of ship-based training initiatives in marine related sciences areas such as scientific instrumentation, the collection and processing of samples, data analysis, quality control, and processing.
General course objectives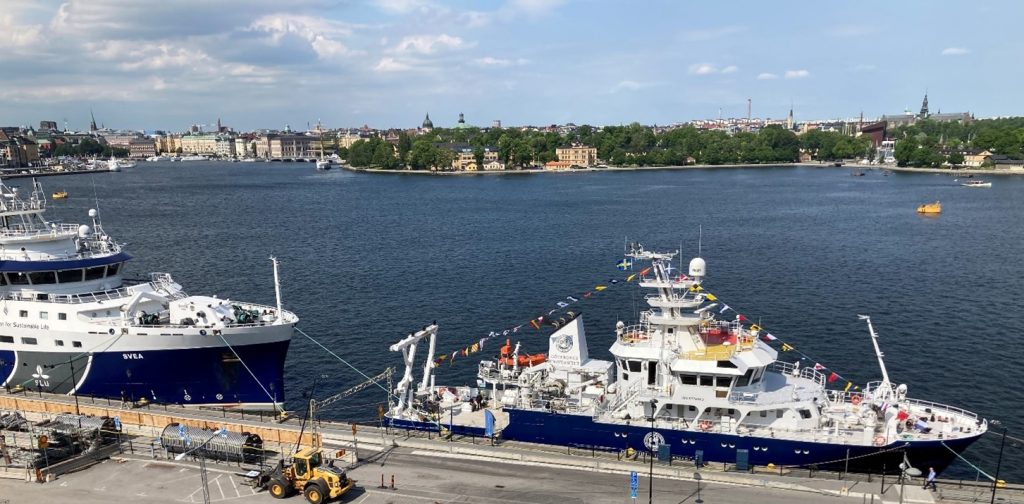 This international Eurofleets course will expose participants to several state-of-the-art ocean observing platforms available in West Sweden. Training aspects include understanding of ship- and robotic-based observing techniques and their associated sensors and measurement capabilities. The course will provide ship time on two new high-seas research vessels (RV Skagerak and RV Svea), in addition to deployment of autonomous platforms such as gliders and larger AUVs. Participants will go to sea during the training week for instrument and platform deployments, robotic-platform piloting, to gain understanding of how different platforms collect data and through data processing and visualization, investigate which platforms are best to use for various scientific questions.
Learning objectives
Students participating in this course will learn to/better understand:
Modern techniques and platforms to collect ocean observations
Go to sea on short research voyages to collect their own observations and deploy/recover instruments
Which types of platforms (e.g. ship vs glider) are suited to make the required measurements/survey
How certain platforms and instruments function/are controlled remotely
Plot and visualize near-real time data and data type comparisons, including data quality control
Be exposed to examples of how such techniques and data are used in science/monitoring
Course content
The course is composed of a combination of lectures, discussions practical sampling/measurements, and interpretation of marine data and the various observing capability of different ships and autonomous platforms. Before the cruise, you will attend an introductory day at the Kristineberg Center, Fiskebäckskil, Sweden with lectures covering the background to the planned sampling of each discipline, a description of what will be carried out on board, survey design & planning, and practical issues. We will then board the research vessels Skagerak and Svea.
The course concludes with a short presentation and discussion by the course participants on the data visualisation and what has been learnt about how and what different observing platforms measure and how they are suited for various marine applications (science/monitoring/resource management, etc).
Time Plan
The course will be from the 24 to the 28 October 2022
Participants are expected to arrive on 23 October at the Kristineberg Center, Fiskebäckskil, Sweden
1st day: Kristineberg (on land) Lectures and preparations
2nd day: Field day on board R/V Svea
3rd day: Field day on board R/V Svea and R/V Skagerak
4th day: Field day on board R/V Skagerak
5th day: Post-cruise onshore activities
October 29th: Departure
Teachers
The course is run with infrastructures and teachers from the University of Gothenburg together with the Swedish Meteorological and Hydrological Institute and the Swedish University of Agricultural Science
Professor Sebastiaan Swart
Dr Bastien Queste
Dr Marcel du Plessis
Estel Font Felez
Application
A total of 10 positions are available for post-graduate students of all nationalities enrolled at European universities, and the selection will be based on the information provided in the application form.
Online application form available to access at
https://www.eurofleets.eu/applications/
Applications must be received by September 18th 12:00 CET
Successful applicants will be notified by 23/09/2022
At the end of the course a certificate of completion will be delivered to all participants. This will include a module descriptor of the course.
Costs and travel grants
The course is funded by EU H2020 project Eurofleets+
The course is free of charge, but participants need to pay for their own travel expenses and food.
A partial travel reimbursement is available after application. The support will be given on submission of proof of expenditure by each individual.
Contacts