At 09th April 2019, Eurofleets+ performed a Townhall Meeting to introduce the project, ship time opportunities and education and training in Eurofleets+.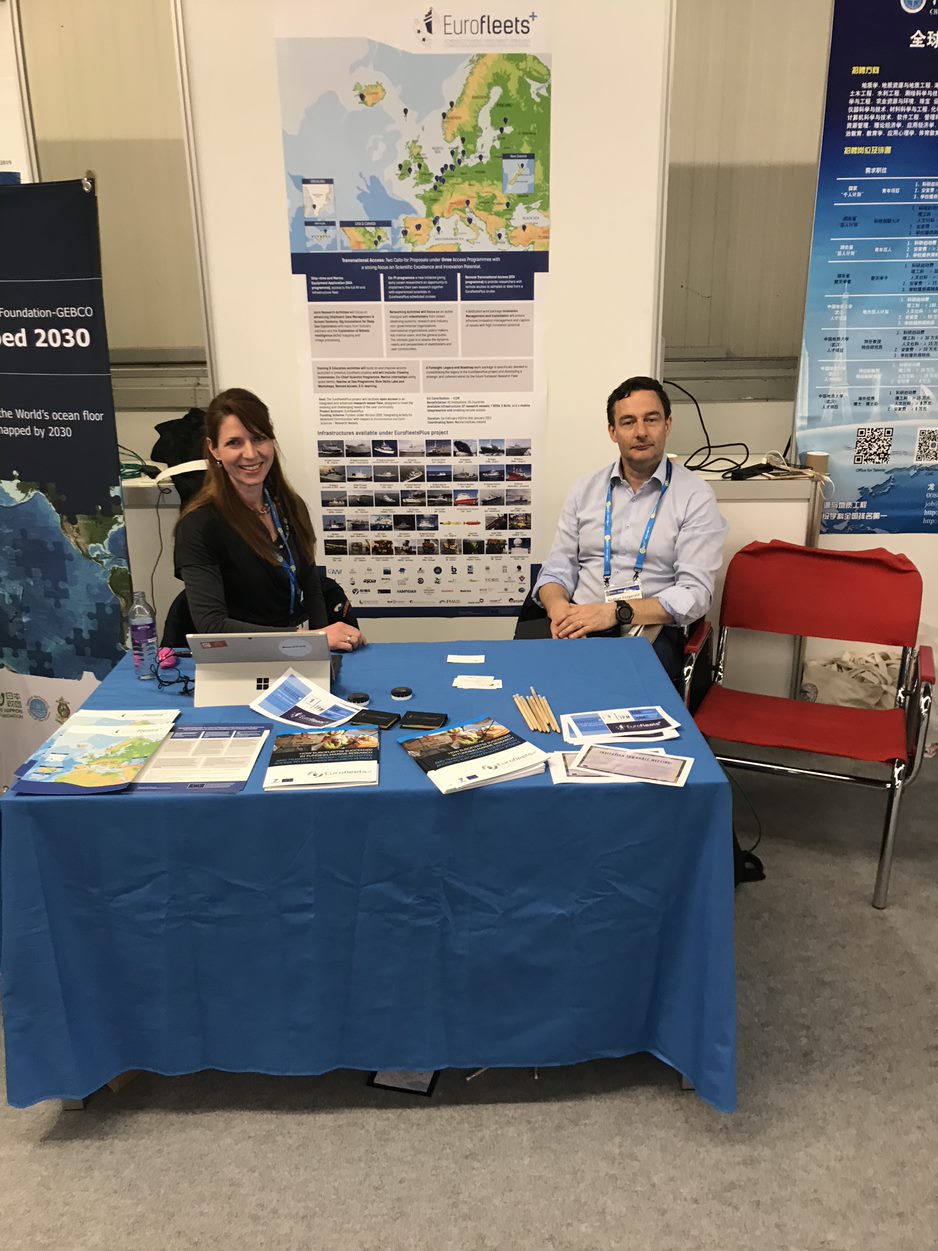 The Townhall Meeting "Eurofleets+: New opportunities for excellent marine science" was convened by Dr. Nicole Biebow from the Alfred-Wegener-Institut für Polar- und Meeresforschung. In three different presentations, a broad audience of interested researchers early-career researchers and senior scientists, including beneficiaries from previous Eurofleets projects, could learn about (1) the Eurofleets+ project background, (2) ship time opportunities and (2) education and training activities.
These are the presentation highlights:

Presentation (1), speaker: Aodhán Fitzgerald (Marine Institute), Project Coordinator of Eurofleets+
Eurofleets+ is a H2020 project enabling marine scientists to access 27 Research Vessels, 7 ROVs, 5 AUVs and a telepresence unit in multiple locations throughout Europe, The Atlantic, Pacific & Ross Sea. Applicants may respond to three different ship-time calls which will be evaluated on scientific excellence.
Services provided in Eurofleets+: Trans National Access to Infrastructure, Training & Education, Roadmap and Legacy Planning, Innovation Management, Joint Research Activities, Stakeholder Engagement.
Presentation (2), speaker: Verónica Willmott-Puig (Alfred-Wegener-Institute), Eurofleets+ Evaluation Office
Eurofleets+ Access Programmes:
SEA: Ship time and marine Equipment Application:

Access to the vessels and/or marine equipment through a classic call for proposals.

A minimum of 2 calls, with "Ocean" (opening June 2019) and "Regional" (opening September 2019) vessels

CO-PI: Co-PI programme

Aimed at early career researchers to implement their own research together with the SEA programme calls. Access of 2-3 days, attached to an Eurofleets+ cruise.

Running call, opening autumn 2019

RTA: Remote Transnational Access

Remote access to samples or data from a Eurofleets+ vessel.

Running call, opening autumn 2019
Presentation (3), speaker: Michele Rebesco (National Institute of Oceanography and Applied Geophysics), Training and Education
Education and training: program presentation and coming next activities:
5 Floating Universities are planned

Marine Internship Programme

Teachers@SEA Programme

Personell Exchange Programme

Blue skills Labs

Blue skills workshop webinars

Coming soon:

Blue skills robotic labs @ University of Gothenburg, call opens May 2019

Blue skills ROV Lab @ University of Bremen (MARUM), call opens August 2019

Floating University on RV Celtic Voyager – Hydrographic survey, call opens October/ November 2019