Meet the Call Management & Proposal Evaluation Leader!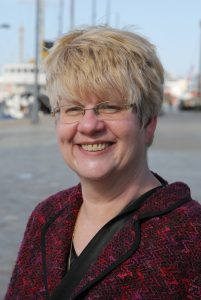 Name: Nicole Biebow
Institution: Alfred Wegener Institute, Helmholtz Centre for Polar and Marine Research
My role in Eurofleets+: Nicole is leading WP4 Call Management and Proposal Evaluation in Eurofleets+. WP4 is taking care of the transnational access to the research vessels and equipment offered in Eurofleets+.
Who I am: Nicole leads the International Cooperation Unit at the Alfred-Wegener-Institute, Helmholtz Centre for Polar and Marine Research (AWI). She is responsible for all international relations of the AWI and maintains an extensive network of contacts in the European and international science and policy communities. She has long-standing experience in the management of international projects and consortia, including a long background in cooperating with Russian institutes. She has worked as scientific coordinator or executive manager of international projects since 1996 and led a large Russian – German project called KOMEX (Kurile Okhotsk Sea Marine EXperiment) from 1997 – 2004. Nicole is involved in Eurofleets since its very beginning.
In addition, Nicole is the executive manager of the EU Coordination and Support Action EU-PolarNet, which is developing an Integrated European Polar Research Programme for the European Commission in close cooperation with the relevant stakeholders. Since January 2018, she is also coordinating the EU project ARICE. ARICE is developing strategies to ensure the optimal use of the existing polar research vessels at a European and international level, working towards an International Arctic Research Icebreaker Consortium. ARICE offers trans-national access to six research icebreakers working in the ice covered Arctic Ocean. ARICE developed out of the Eurofleets2 WP3 Flagship initiative for polar access.
Nicole studied Geology /Paleontology at the University of Kiel and got her Diploma in 1991. She received her PhD in Marine Geology at GEOMAR in Kiel in 1996. She participated in 17 marine research cruises on German and Russian Research Vessels, two of which she led as a chief scientist.