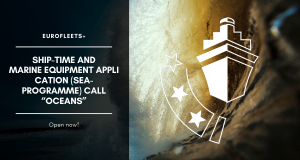 The SEA Programme offers fully funded transnational access to 16 Research Vessels and 6 pieces of Marine Equipment to carry out ship-based research activities within any field of marine science.
Applications are welcome from international teams of researchers from academia and industry. Early-career and female applicants are encouraged to apply.
Check for funding conditions, application guidelines and full eligibility criteria at: https://www.eurofleets.eu/access/sea-call-regional/
This call will remain open for the submission of proposals until Friday 28th of February 2020.
Research vessels:
North Atlantic Ocean
RV Belgica/Belgica II (RBINS, Belgium)
RV Magnus Heinason (HAVST, Faroe Islands)
RV Sarmiento de Gamboa (CSIC, Spain)
North-West/West Atlantic
RV Coriolis II (UQAR, Canada)
RV Atlantic Explorer (BIOS, Bermuda)
Arctic, Southern and Pacific Ocean, Mediterranean Sea
RV Laura Bassi (OGS, Italy)
Baltic Sea, North Sea
RV Alkor (Geomar, Germany)
RV Aranda (SYKE, Finland)
RV Simon Stevin (VLIZ; Belgium)
RV Skagerak (UGOT, Sweden)
Mediterranean Sea, Atlantic Ocean
RV Angeles Alvarino (IEO, Spain)
RV Laura Bassi (OGS, Italy)
RV L'Europe (IFREMER, France)
RV SOCIB (SOCIB, Spain)
RV Tubitak Marmara (TUBITAK, Turkey)
Mediterranean and Black Sea
RV Mare Nigrum (GEOCOMAR, Romania)
RV Aegeo (HCMR, Greece)
Marine Equipment:
AUV CNR Glider 'Teresa' (CNR ISMAR, Italy)
AUV Hugin (UGOT, Sweden)
AUV VLIZ (VLIZ, Belgium)
AUV ASTERx or IDEFx (Ifremer, France)
ROV Ocean Modules V8 offshore (UGOT, Sweden)
VSAT Satellite System (Telepresence Unit) (GFOE, United States of America)
For a detailed description of the Research Vessels and Marine Equipment offered by EUROFLEETS+, visit https://www.eurofleets.eu/.
Contact: eurofleetsplus@awi.de