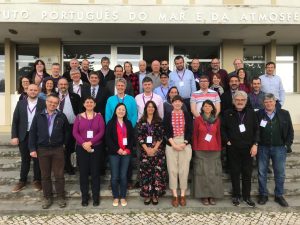 The meeting provided the opportunity to review the work done in year one and facilitated discussion on the advancement of all project objectives and activities.  The agenda included a plenary session with all work package leaders providing an update on progress and next steps, in conjunction with specific work package meetings for more in-depth exploration of each project focus area.
Prof.  Miguel Miranda, President of Instituto Portugues do Mar e da Atmosfera (IPMA) opened the meeting welcoming all to IPMA and expressed his best wishes for the Eurofleets+ project, hoping that it will strengthen the relationship between ship operators and Prof. Sheila Heymans of the European Marine Board (EMB) presented the EMB's recent position paper No. 25 on research vessels – their current status and foreseeable evolution.
The day conclude with a workshop entitled "Stakeholder Engagement World Café" coordinated by EurOcean with EMSO ERIC which sought to identify stakeholders and address actions that should be put in place so EUROFLEETS+ becomes a long-term sustainable coordinated system.
It was noted that the project has achieved impressive progress in its first year. The coordinator, Aodhán Fitzgerald, thanked all partners for working hard to achieve challenging milestones and goals and for helping to deliver the Eurofleets+ results so far.