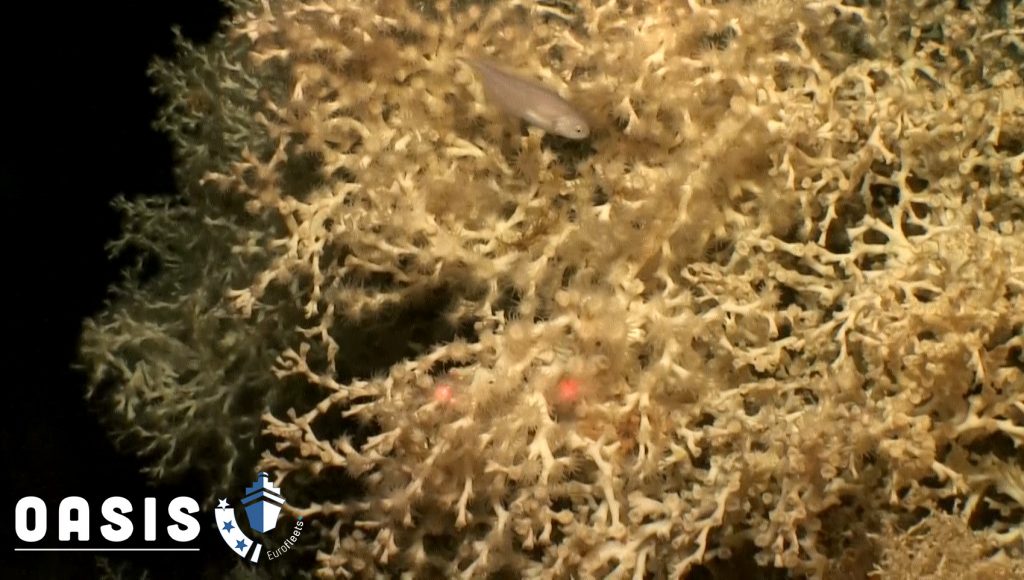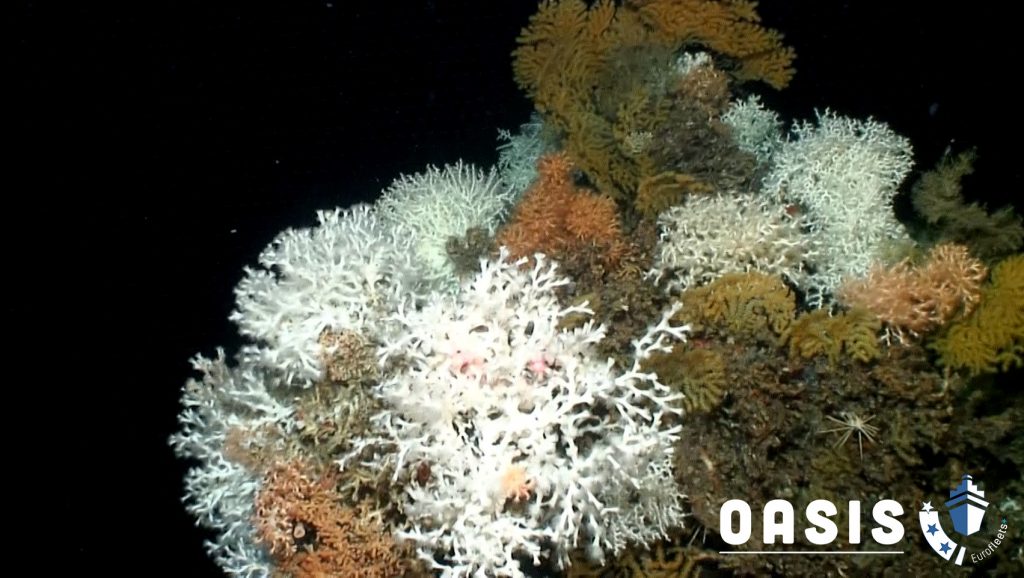 The Eurofleets+ OASIS expedition, onboard the Dutch RV "Pelagia", headed last week the Alboran Sea, western Mediterranean. Unexpected large and thriving reefs of cold water corals and other deep-sea ecosystems were unveiled on the Cabliers and Catifas Banks. 
The cruise is led by Claudio Lo Iacono from ICM-CSIC, the Marine Science Institute of the Spanish National Research Council, and partnered by several international institutions of marine sciences, including NIOZ, NOC and University of Barcelona.
Busy days with the ROV "Max Rover" provided by the Greek HCMR yielded plenty of discoveries and unique findings. OASIS scientists found unexpected large reefs of Lophelia pertusa, spotted in thriving conditions for the first time on the uppermost part of some mounds in the Catifas Bank.
Remarkable cold-water coral communities have been also found at Cabliers, known to host the most flourishing and well-preserved coral reefs in the Mediterranean: multiple species of scleractinians and gorgonians; black corals living on yet jaw-dropping over 100m high walls; dense sponge fields dominated by the ecosystem-engineer glass sponge Asconema setubalense.
But why these ecosystems are so unexpectedly thriving and well preserved? To quantify the hydrographic, hydrodynamic and sedimentary conditions which create the most suitable conditions maintaining these wonderful oases in the deep, a wide variety of seafloor observatories including moorings and benthic landers, provided by ICM and NIOZ, have been deployed to acquire data over an entire year-long period.  
Altogether, the diverse habitats found so far are teeming with life, supporting a huge variety and diverse community of fauna, including fish species of economica relevance, making Catifas and Cabliers banks unique biodiversity hotspots in the Mediterranean.
In the frame of the H2020 MSC Project HABISS ("Eco-hydrodynamics of cold water coral habitats across integrated spatial scales", https://www.habiss.eu/), OASIS findings will be finally be presented on the 13th of April, to the United Nations General Fishery Commission for the Mediterranean at the Subregional Committee for the Western Mediterranean, and will be used to demonstrate the unique state of conservation of these environments, supporting the creation of the first shared Fishery Restricted Area on the Cabliers reefs in 2024, managed by the EU, Morocco and Algeria (https://ec.europa.eu/commission/presscorner/detail/en/ip_22_6842).