Short Name: HAMPIDJAN
Country: Iceland
Description
Hampidjan Hf (Hampidjan Offshore) is a part of Hampidjan Group of companies. Hampidjan started in such a way that in the spring of 1934, in the middle of the Great Depression, thirteen individuals gathered a small fortune to start up an industrial venture in Reykjavík, to manufacture fishing nets, ropes and fishing long lines for the local fishing fleet. Since then Hampidjan has become the world leader in making and servicing quality fishing gear for trawlers and purse seiners. We operate several service centers around the world with a central manufacturing facility producing ropes, netting and trawls in Lithuania.
Our brand names for fishing gear are some of the best recognised in the world's fisheries, including the GLORIA and SWAN NET self-spreading pelagic trawls.
In the last two decades we have extended our market lead to the offshore, oceanographic and oil industry by developing new ground-breaking products and innovative solutions with multiple variations of our DYNICE high performance HMPE ropes, also in high demand for various commercial, leisure, yachting, mooring, military and rescue activities.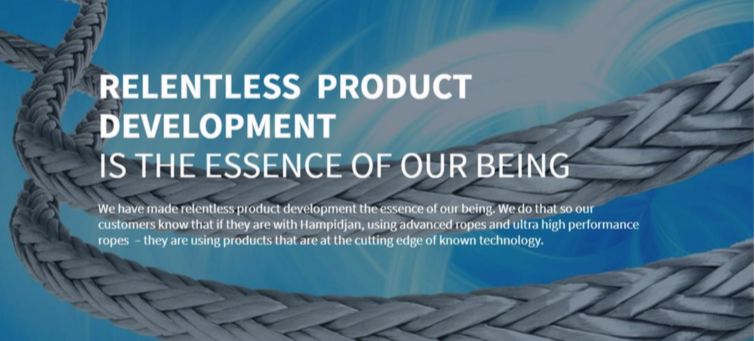 Role
Hampidjan will undertake activities in WP3 Joint Research Activities, WP5 Stakeholder Engagement, and WP7 Innovation Management and Exploitation.
Hampidjan Offshore will develop and manufacture, as well as do all testing the development of needed final terminations, for ropes from synthetic fiber, HMPE and/or Aramids, to be used in the worldwide oceanographic industry for different applications such as coring sampling, data and electrical transfer to subsea equipment and other uses, all while offering very low weight and extreme strength from the latest generations of synthetic fibers as strength members. This will help operators of oceanographic save weight and energy, it will also open up new usage possibilities of existing equipment on board both new and existing oceanographic vessels.
Address
SKARFAGARDAR 4, 104 REYKJAVÍK, ICELAND