Short Name: SEAONICS
Country: Norway
Description
SEAONICS AS specialize in handling solutions for exploration and use of ocean resources. Our vision is a safe and sustainable utilization of ocean resources.
Seaonics focus on the segments Offshore Energy, Ocean Harvesting and Research & Exploration. Seaonics provides complete electric driven handling systems for scientific research vessels.
Based on each vessels' unique operational requirements, Seaonics deliver tailor made technical solutions to enable efficient research operations.
Below is an overview of the SEAONICS group and its subsidiaries, competence and locations.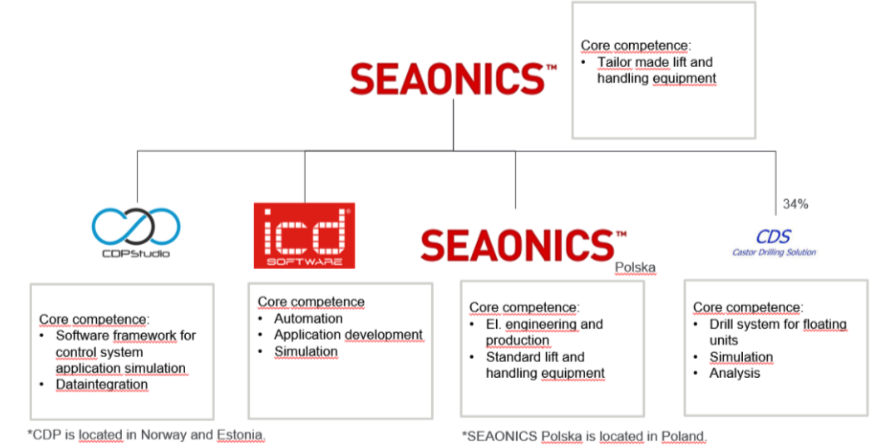 Significant Infrastructure
SEAONICS have a test site situated in Romania with a full-scale test tower for equipment testing and FAT. This test site will be considered for winch testing during the project.

SEAONICS' test lab for simulation and control system is used for test of control system functionality and coherence. In the lab we can simulate systems from single winch controls to complete distributed control systems. The lab includes CDP Studio: Custom developed hardware independent software platform for design of automation control systems, user interface and real time simulation. CDP Studio will be used in the dynamic simulation of relevant equipment in the project to ensure fit for purpose.

Relevant Publications
SEAONICS will undertake activities in WP3 Joint Research Activities, WP5 Stakeholder Engagement and WP7 Innovation Management and Exploitation.
Seaonics will provide expertise and knowledge to the project within the following areas:
Technical solutions for equipment for safe launch and recovery of scientific equipment, either in the water column or from the seabed.

Arrangement and 3D simulation of equipment on vessel to ensure efficient operations and optimal use of equipment.

Control system design with focus on system integration and safe operation control

Integration of sensor and data logging, storage and analysis integration in the lift and handling equipment
Address
Hundsværgata 8, NO-6008 Aalesund,NORWAY