Eurofleets+ held its second Floating University on the use bio-optical parameters as convenient tool to study marine biogeochemical processes on board the IO PAN's RV Oceania in Gdansk (1 – 8 June 2021). The 8-day training programme attracted postgraduate students of 7 nationalities (Greeks, English, Mexican, Italian, Slovenian, and German) affiliated at educational and research institutions in 5 European countries (Italy, Greece, Denmark, Germany, Great Britain)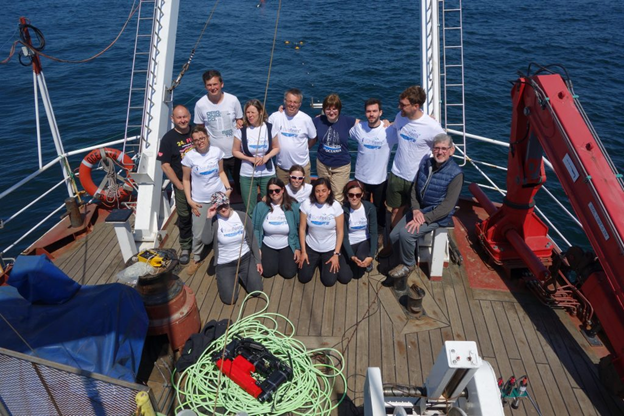 Figure 1. Student, teachers and ship captain on group photo.
The general objective of the course was to provide theoretical background and practical experience in conducting instrumental measurements of inherent and apparent optical properties in marine waters and collecting water samples for determination of concentrations of optically significant sea water constituent. Student were familiarized with latest IOCCG measurements and sampling protocols and state of the art optical instrumentation. Course participants were muster on board RV Oceania on June 1, 2021 in the morning, and ship has left the Gdansk harbor the same day around noon. On board students have worked in small teams guided by teachers and instructors to conduct optical measurements and water sampling on selected station in the Danish straits and along the ship track during passage around Danish Island of Sjælland (Figure 1). Data acquisition and processing workshops have been conducted in the evenings together with lectures presenting the scientific aspects of the study area. Analysis and interpretation of the instrumental measurements data collected during the cruise have been discussed with students during data workshops.  On the last day of the student were working on the data and preliminary results presentation, which was later given by students seminar. The course has been finished with the graduation ceremony.
Students and teachers have integrated quickly and formed a friendly group of co-workers focused on research and learning, but also enjoying social life and interaction, that we all have been lacking because of the COVID pandemic lock-downs. Social events included informal meetings in mess and common rooms, watching movies and barbecue on deck. The memorable event was the live rehearsal "abandon ship drill" that included putting on survival suits and jumping overboard (volunteers only) (see photos).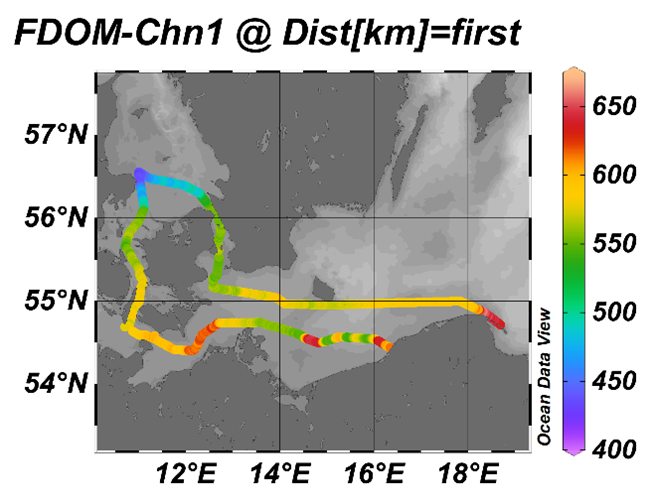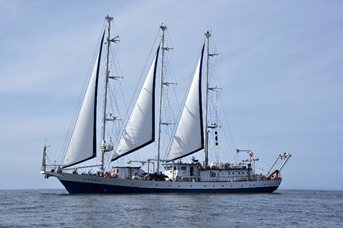 Figure 2. Eurofleets Flaoting University on board on r/v Oceania ship track. Colors represent the terrestrial dissolved organic matter instesity measured along the ship track with flow through instrumental setup.
The course was composed of a combination of lectures, laboratory work and practical sampling/measurements, and interpretation of optical and bio-geochemical data.  Before the cruise, trainees attended two introductory days at Institute of Oceanology Polish Academy of Sciences in Sopot (Poland), with lectures covering the theoretical background in ocean optics and geochemistry, and practical training in laboratory measurements.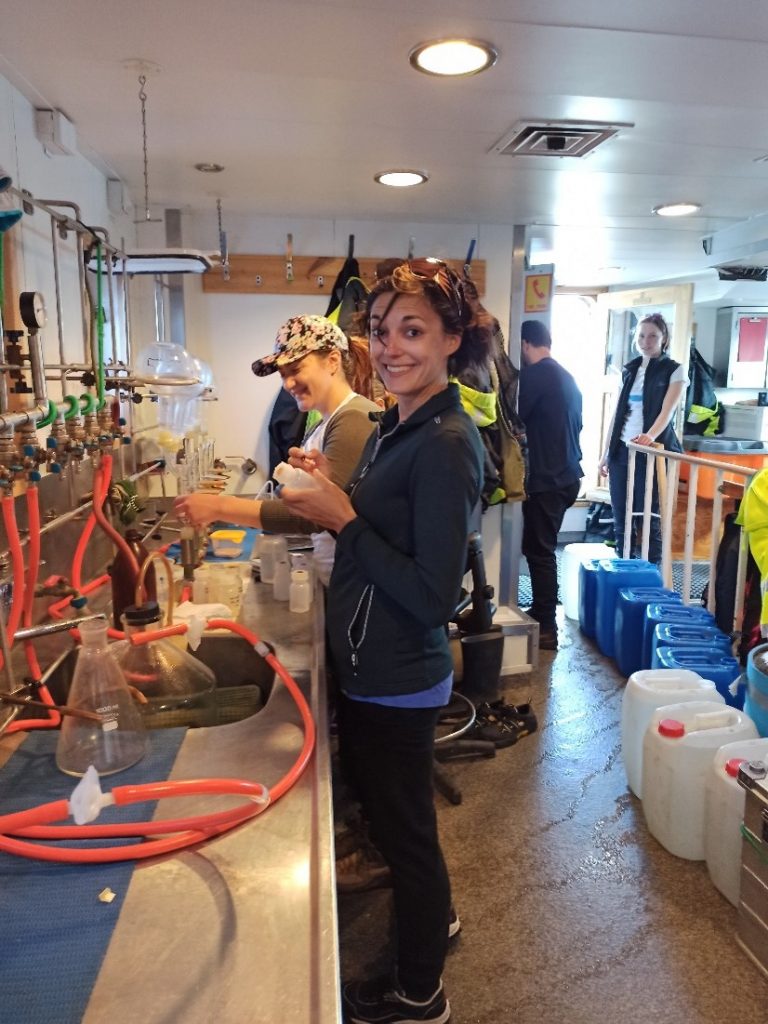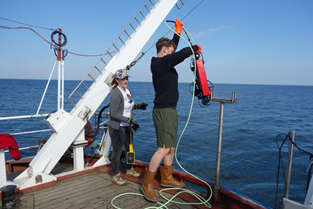 Figure 3. Students at work – processing collected water samples in the wet lab and recovering profiling radiometer after deployments.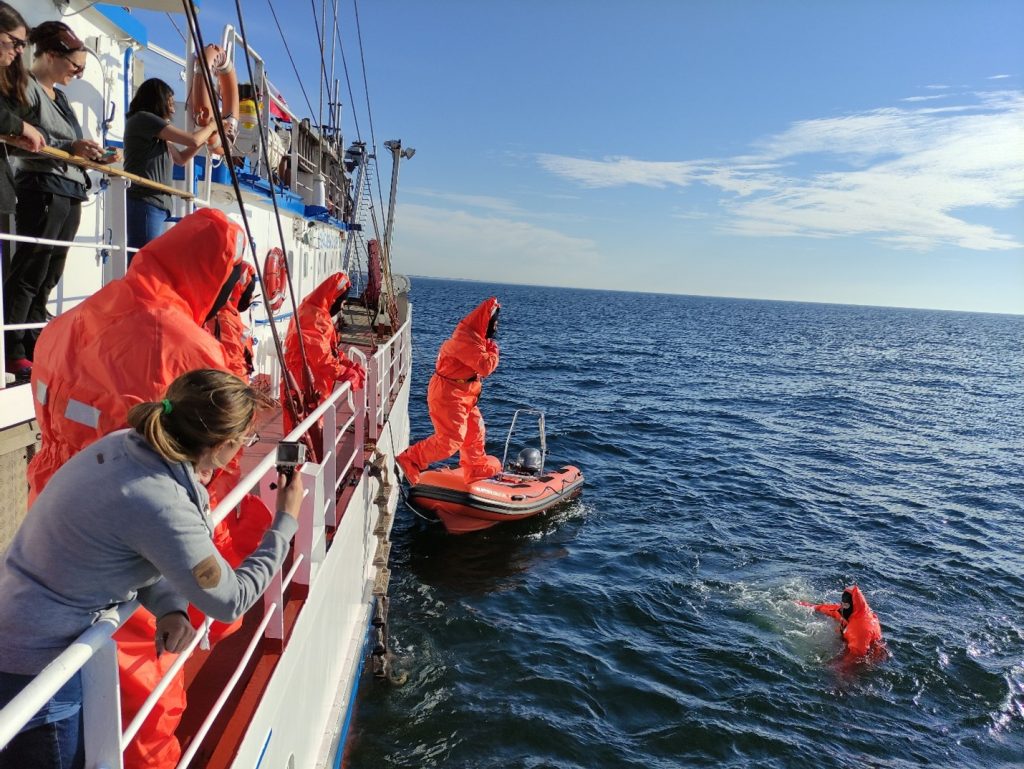 Figure 4. The live rehearsal "abandon ship drill" –  course coordinator Piotr Kowalczuk jumps over board.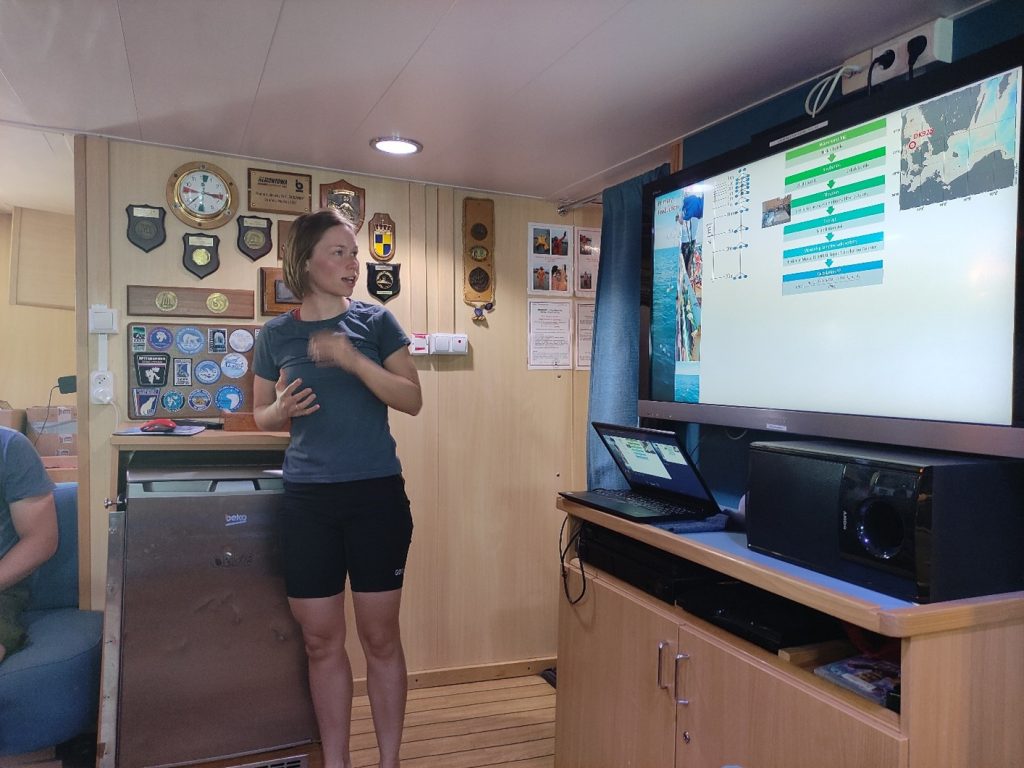 Figure 5. Student presenting preliminary results on the seminar.
Figure 6. Graduation

One of the key objectives of Eurofleets+ is the delivery of five Floating Universities for early stage researchers of marine related sciences. Floating Universities will address a range of themes and topics and focus on the applications and operation of research vessel data acquisition and sampling systems and equipment.

There will be three additional Floating Universities hosted by different Eurofleets+ partners over the next three years, full details available on the Eurofleets+ here.  

Make sure to subscribe to the Eurofleets+ newsletter and updates to keep up to date on the project activities.