On September 17th-23rd, Euro-Argo ERIC, represented by CNR-ISMAR and the ERIC Office, joined the Eurofleets+ Floating University "Multiple platforms to measure the ocean".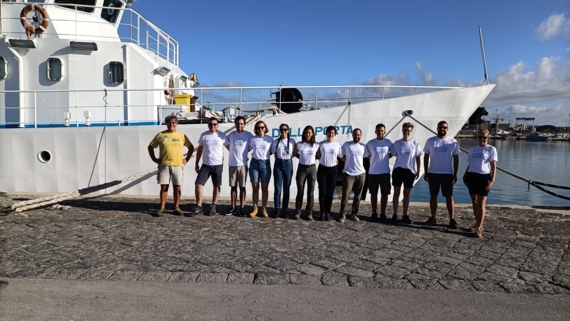 © Francesco Falcieri/CNR
This Floating University, designed in collaboration between Euro-Argo ERIC and Eurofleets+, took place on the CNR's R/V G. Dallaporta in the harbour of Mazara del Vallo (in the province of Trapani, Italy) and on the South-Western coast of Sicily.
The general objective of the course was to provide theoretical background – with 3 days of lectures and 1 day of group works – and practical experience in conducting instrumental measurements of seawater physical and chemical properties during three days of field activities.
The introductory lectures allowed to bring up:
●      Argo and Biogeochemical (BGC) Argo, as well as application of Argo-based bio-optics to study the ocean carbon cycle;
●      BGC Argo data quality control;
●      Euro-Argo visualization tools.
Many field activities with a focus on BGC floats
During field activities several instruments were used: Conductivity Temperature and Depth (CTD) probes, Niskin bottles for water samples collection, salinometers, moored instruments deployed near the coast as a test to learn the setup of instruments such as Acoustic Doppler Current Profilers (ADCPs) and Microcat probes. The mooring was then deployed during the first field day and recovered one day after to learn how to retrieve the collected data. The course also provided theoretical background on inherent (IOPs) and apparent (AOPs) optical properties in marine waters and how to use these measurements to observe the biology of the ocean and study the ocean carbon pump. The students had the chance to familiarise themselves with measurement and management of IOPs and AOPs acquired by autonomous robotic platforms, with a focus on BGC Argo floats. Synergies between BGC Argo data measurements and other platforms including satellite Ocean Colour were explored. During offshore activities, students were trained on testing, deployment and recovery of Argo floats. Offshore training was supported/integrated/preceded by lectures, and online resources.
© Beatrice Giambenedetti
Emanuele Organelli, Research scientist at CNR-ISMAR, talked to the students about BGC Argo floats.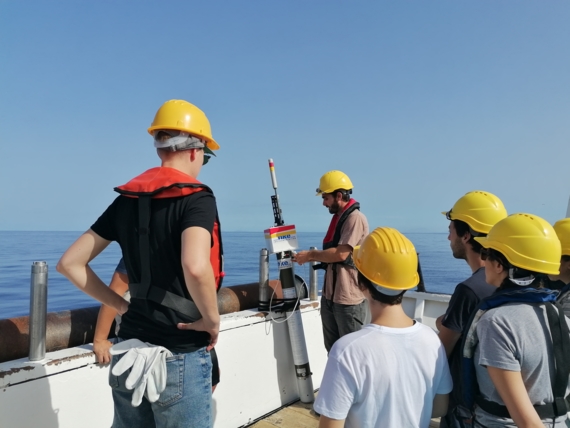 © Katrin Schroeder/CNR
Romain Cancouët, Operational Engineer from the Euro-Argo ERIC Office, trained the students on how to deploy, operate and recover an Argo float.
Towards increased collaboration between Euro-Argo ERIC and Eurofleets+ joint training programme
This event was a first step towards deeper collaboration between Euro-Argo ERIC and Eurofleets+, including the development of joined activities such as training programmes, deployments and recoveries of Argo floats, etc.
"This is a concrete example of synergy between two relevant on-going pan-European initiatives …. a small but nonetheless important contribution and step forward towards a truly integrated end-to-end ocean observing network in Europe!"said Giuseppe Magnifico, Eurofleets+ programme leader within CNR. Several fields of cooperation and coordination between Euro-Argo ERIC and Eurofleets+ were identified at the 1st International Stakeholder Workshop "Combining fixed and mobile ocean observing systems", held in 2021.